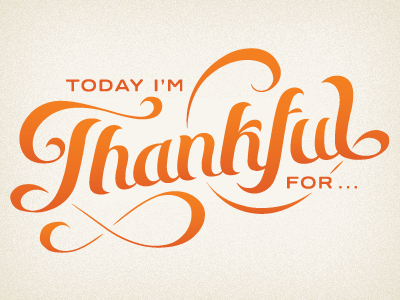 Don't do as much blogging as I used to but every year since 2007, I have done this list of things I'm thankful for so not stopping now!
1. Jesus– Surprise, Surprise…the now 9 time champion! What else can I say but that He is everything to me and I'm continually amazed that not only has He forgiven me but He uses me to accomplish His will here on the earth sometimes in the most unusual ways. I don't deserve anything from Him yet He keeps blessing me. I know some of you reading this think that Christianity is restrictive, but it's actually the opposite…the freedom to know you're exactly where God wants you to be is such an awesome feeling and it's something only Jesus can provide. I liken it to traffic laws…they aren't there to restrict you but to keep you safe. Because of them you have more freedom not less because there is order to things. God and His Word are the same way. The more you get to know Him the more you realize He always has your best intentions at heart whenever He says to do something or not to do it.
2. Lisa– This year we celebrated our 20th wedding anniversary and I know it sounds like a cliche but our marriage just keeps getting better and better! Words can't even begin to describe how awesome she is and everyday I thank God that I won the wife lottery because I definitely don't deserve her. Can't wait to see what the next 20 years brings!
3. My Health– As many of you know I contracted some sort of bacteria/virus this summer while in Costa Rica which had me basically lying in bed extremely sick for a month. So I'm thankful I have my health back but I'm even more appreciative of those that have chronic illness, etc. I only had a month of illness and the mental side was as bad as the physical side. So for those of you who suffer all the time, I can somewhat empathize and want you to know I'm praying for you. Everyday now even with my minor aches and pains of getting older, I realize what a gift my somewhat normal health is.
4. New Building– Last year at Thanksgiving we thought it was just a matter of time until we closed on our new church building. Little did we know that it would take an entire year to finally close…which we did 17 days ago! The Church is people not a building but a building will definitely help. Can't wait to see how God is going to use this new tool on our tool belt.
5. The People of ExponentialChurch.tv– Our church celebrated it's 5th birthday this year and through those years literally hundreds of people have walked through the doors and been a part. Some were there just a week, some months, others for years. Each and everyone is loved and appreciated but I'm especially thankful for those we have right now. They have stuck through the good and the bad times and are currently a part of God being on the move in our midst. Their generosity of time and money is inspiring and I can't wait to see what the next 5 years will bring as we continue to communicate through our words and actions that You Matter to God and You Matter to me.
6. My Mom and Dad– They are a part of #5 above…which is kind of funny. When I pastored a church 20 minutes from their home, they would show up 1-2 times per year. The when I pastored a church 30 minutes from their home, they started showing up 3-4 times per year. Now that I'm an hour plus away, they show up every week! What an honor to be able to be your parent's pastor. But even more so, what dedication on their part to come up not just on Sunday's but sometimes multiple times during the week to serve the people of Harrisburg in various ways. I'm so thankful that we get to work side by side in the most important task in the world…showing other people the love of Jesus.
7. Family on Both Sides– Lisa and I are fortunate to have relatives that we actually really like. I can't think of a single relative that we ever dread having to be around. While we don't get to see everyone as much as what we'd always like, things like Facebook help to keep tabs on everyone and stay invested in some way in their lives. I love the times we are able to get together and the fun we have!
8. DrewPeacoq8– In the real world better known as John Gonzalez. 3+ years ago John was the first of my 3 poker coaches that I hired. Immediately we hit it off and as the years have progressed he has gone from coach to friend to as of a few weeks ago a brother in Christ. Almost daily, whether it be phone, text, chat, email etc we are in communication with one another and increasingly it's less and less about the game we both love and about life and living life to it's fullest. He truly has become one of my best friends…in fact, Lisa and I are leaving tonight after family stuff to head to North Carolina to spend a few days with John and Brandy. Can't wait to hang!
9. Poker in General– It's amazing all the ways a card game has impacted my life. First, I still find it extremely relaxing as a way to unwind after a day of church stuff. Second, it has allowed me to expand my ministry reach. Whether it's helping local players through various personal issues or the opportunities I'm getting nationally and globally to share the good news of Jesus, it's so cool to be able to make an impact for the Kingdom of God in an area that so desperately needs it but yet many Christians would steer clear of. Third is from a financial stand point. This year especially I have been crushing tournaments which has allowed us to not have to depend on Lisa for any income, which in turn is allowing her to pursue some of her own dreams and goals. Last, it is an avenue to keep my naturally competitive juices flowing. Not only from tourney to tourney, but also each week when the new global rankings come out it's fun to see how I stack up. As of this week, I'm the #1 online player in PA, #16 in the United States and #1110 in the world.
10. You– If you've read all the way through this then chances are you're someone close to me and I just want to say thank you for your love, encouragement, friendship and support. No matter what area of life I know you from, my life is better because you're in it…here's to many more years of doing life together! Happy Thanksgiving!